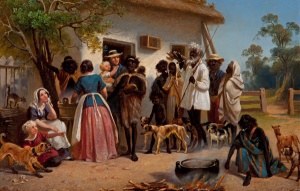 Indigenous Australian histories
Learn about the history of Indigenous Australian people.
What's it about?
You will investigate Indigenous histories since the time of invasion, when Indigenous land was colonised by Europeans. We begin in 1770 when Englishman Captain James Cook first mapped the east coast, and gives an overview of the period until about 1890. You will learn about protection, segregation and assimilation which were the three main approaches adopted in relation to the treatment of Indigenous people in twentieth century Australia.  You will hear about the Stolen Generations, the removal of Indigenous children from their families and the impact of these policies on Indigenous families. Understanding the history of Indigenous Australians is important for working towards reconciliation with First Nations world-wide.
What will I learn?
 You will be introduced to the following topics:
Invasion and the Colonial Frontier Period

Protection, Segregation and Assimilation Policies

The Stolen Generations
What's involved?
This course is designed as an introductory level to the Australian Indigenous culture and is self-paced allowing you flexibility in your study. You will work your way through readings and activities. Your learning is guided by a series of icons that reflect the importance of the Indigenous culture. For example, a campground signifies a place to stop, reflect or undertake a task. The clapsticks keep time to a song that contain important knowledge. They indicate key ideas.
Prerequisites?
Everyone is welcome to participate in this course. An internet connection and basic web browsing skills are recommended with the ability to create a blog/journal for you to use during the course.  
Image credit: Photograph of  work by artist Alexander Schramm in the public domain. 
---
Available:
14 December 2016
---
Course Credit:
Introduction to Indigenous Australia: Culture, history and contemporary issues
Credential:
Can be used as elective subject in any degree at Charles Sturt University
Level:
1st year Bachelor's
---