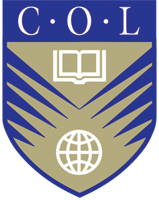 Commonwealth of Learning
The Commonwealth of Learning is an intergovernmental organisation created by Commonwealth Heads of Government to encourage the development and sharing of open learning/distance education knowledge, resources and technologies.
The Commonwealth of Learning helps governments and institutions to expand the scope, scale and quality of learning by using new approaches. COL promotes policies and systems to make innovation sustainable and works with international partners to build models, create materials, enhance organisational capacity and nurture networks that facilitate learning in support of development goals.
COL helps developing Commonwealth countries to increase access to learning using distance education and appropriate technologies.
The COL has established a network of Honorary Chairs in Open and Distance Learning, where possible in collaboration with UNESCO, which already operates a Chairs Programme across a range of disciplines.There are designated COL chairs in OER at Athabasca University in Canada and Otago Polytechnic in New Zealand. The COL has been providing advice to the OERu network since its inception meeting in February 2011. The implementation of the OERu is a designated project of the UNESCO-COL OER Chair network and the COL's contribution focuses on capacity development for OER in the Commonwealth.