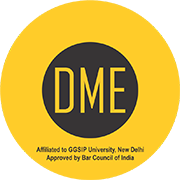 Delhi Metropolitan Education
Inspire global standards of learning, ethical professional practice and scholarly deliberations towards individual growth.
Delhi Metropolitan Education (DME) is a premier educational institute affiliated to Guru Gobind Singh Indraprastha University, New Delhi and approved by Bar Council of India.
DME offers courses in:
Law (BA.LLB & BBA.LLB [Integrated Courses])
Journalism (BJMC [Bachelors in Journalism & Mass Communication])
Management (Management: BBA [Bachelors in Business Administration])
DME has joined the OERu Outreach Partnership to widen access to learning opportunities through OERu online courses for its students.