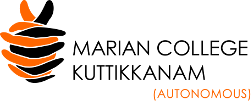 Marian College Kuttikkanam
Marian aspires to be a transformational leader in education. Inform, form, and transform.
Marian College Kuttikkanam (Autonomous) is a Government of Kerela funded higher education institution established in 1995 by the Catholic diocese of Kanjirapally. The College has demonstrated substantial growth and has become the youngest college in the state to  be granted autonomous status in 2016.
The College is committed to the integration of technology enhanced learning in its teaching, learning and evaluation processes. It is proud to partner with the OERu in achieving these objectives through open educational resources.