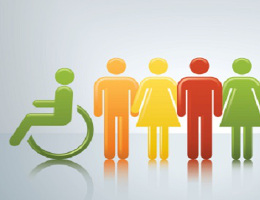 Digital accessibility as a business practice
With accessibility awareness emerging worldwide, organizations are beginning to realize that accessibility is not only the right thing to do, it's good for the bottom line, and in many places, it's the law. Learn how to create a culture of accessibility in your organization.
What's it about?
This course provides business leaders with the tools and knowledge needed to effectively enable digital accessibility in an organization through cultural change, raising awareness of its importance, and equipping employees with the specific tools and knowledge they need to address digital accessibility as part of their everyday work.
What will I learn?
The course content focuses on three main themes:
Strategic Planning for Digital Accessibility – Developing an implementation framework for change management to sustain a culture of inclusion, including strategies that inform accessibility policy development.
Implementing Digital Accessibility – Identifying roles and responsibilities in developing a process to implement digital accessibility, related to training, hiring practices, and procurement.
Digital Accessibility Quality Assurance – Developing metrics to measure, monitor, and maintain digital accessibility once it has been achieved.
What's involved?
Participants will take on the role of a project manager following the story of the Sharp Clothing Company. Through a wide range of activities, they will learn how to implement digital accessibility throughout the company, with a practical exercise to develop a digital accessibility policy that guides the company's accessibility efforts into the future. The policy document created in the course can be reused as a template for real-world organizations that plan to implement a digital accessibility policy and develop a culture of inclusion as part of their business practices.
Prerequisites?
No prerequisites required, though past familiarity with accessibility issues  in general, will be beneficial.
---
Available:
6 December 2019
Duration:
4 weeks,5 hours per week
---
Course Credit:
Professional development course without credit
Level:
1st year Bachelor's
---