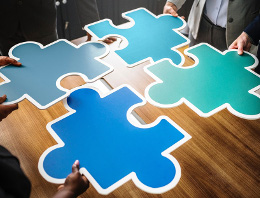 Introduction to web accessibility
The W3C Web Content Accessibility Guidelines (WCAG) are the basis for web accessibility laws around the world. This course takes a practical look at the standard, and through a wide range of activities, helps participants, from novice to expert, understand the many intricacies of accessibility on the Web.
What's it about?
With raised awareness and accessibility laws emerging around the world, understanding what inclusive access to the Web means is becoming necessary knowledge for anyone who produces digital content. Much of the current information on Web accessibility requires some technical understanding, and may be difficult to consume for the average person. This course will "interpret" the W3C Web Content Accessibility Guidelines (WCAG 2.0), to make it easier to understand for a general audience. You will have an opportunity to experience barriers firsthand, then experience that content with the barriers removed, developing a practical understanding of web accessibility. 
What will I learn?
Key topics to be covered in this course include:
WCAG principles. Web content must be:

Perceivable
Operable
Understandable
Robust

WCAG guidelines interpreted
WCAG success criteria
WCAG sufficient and advisory techniques
Introduction to accessibility testing
Introduction to assistive technologies
Experiencing barriers for those who do not experience barriers
What's involved?
This is a foundational course for anyone who is considering web accessibility as a career, as well as those who's job or work requires attention to accessibility. 
The course starts with an overview of all the pieces of WCAG, including the Guidelines themselves, the guiding principles, success criteria for meeting guideline requirements, issues around compliance, as well as an introduction to techniques that can be used to resolve potential barriers on the Web.
Each guideline, and their respective success criteria, are analyzed from a practical perspective, with examples of associated barriers and solutions participants can experience by putting themselves in the place of a person who is blind, using a screen reader to access content on the Web.
Participants will experience barriers firsthand and develop a practical understanding of web accessibility,  learn how to create closed captions, critically evaluate a number of automated accessibility checkers, evaluate and rewrite content to make it adaptable to a broader audience, as well as evaluating the quality of websites to identify errors in the markup of the site that may create barriers, among a variety of other experiential activities.
Prerequisites?
No prerequisites required beyond being familiar with using the Web.
---
Available:
6 December 2019
Duration:
4 weeks,5 hours per week
---
Course Credit:
Professional development course without credit
Level:
1st year Bachelor's
---