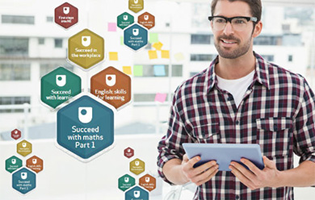 Succeed with learning
Have you ever had any of the following thoughts?

What do I want to do with my life? How can I reach my goal? Would I cope with studying at college or university? Can I get better at learning? How can I manage the challenges that life keeps throwing my way?

If you are thinking about questions like these, this free badged course from The Open University Succeed with learning is just what you are looking for.
What's it about?
This course takes your life as its starting point, developing your awareness of just how much you have already learned and what you are capable of. It will suggest ways of 'fine-tuning', and building on, the expertise you have developed in your life. You will also learn some interesting theories about how we learn, and some of the key skills and tools to make your learning a success.
What will I learn?
After completing this course you will be able to:
understand how learning takes place every day
appreciate the qualities, skills and knowledge you have already
know better how to use computers for learning
understand how reflection and feedback can help you make the most of your learning
discuss some important theories about learning

develop a learning action plan to help you move forward.
What's involved?
Although the course has been designed to be studied over eight weeks, the course is open all year for you to join at anytime and study at your own pace.
Succeed with learning is an informal, introductory course for people who want to feel more confident about their learning skills. This free badged course builds on your own qualities, knowledge and skills to develop a deeper understanding of the nature of learning and of your own potential. It introduces some core ideas about learning and academic study, and some planning tools to enable you to take the next step with confidence. You'll use plenty of real-life examples to help with this and give you plenty of opportunities to practise your new understanding and skills.
Prerequisites?
None
---
Available:
10 February 2015
Duration:
8 weeks,3 hours
---
Course Credit:
Non accredited
Credential:
Digital badge, Statement of Participation
---
Course image @The Open University 2015
The Open University is proud to make this course freely available under a Creative Commons licence. Unless otherwise stated or third-party materials which are used with permission, so are not subject to the Creative Commons licence, or ours to give away. Full details can be found in the Acknowledgements section of the course.
---