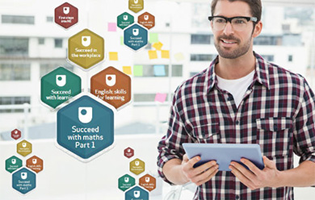 Taking your first steps into higher education
This free badged course from The Open University explores - What is university study like? Is it for me? If you are asking yourself these questions, this free badged course is for you.

Taking your first steps into higher education provides insights into how subjects are studied at university. This introduction to carefully selected materials helps you decide what you might want to study. You will be looking at three main areas: arts and humanities, the social sciences and maths, technology and science.
What's it about?
Take your first steps into higher education, working at your own pace, to explore what it is like to study the following subjects at University:
arts and humanities  
social science  
science, technology and maths 
What will I learn?
After completing this course you will be able to:
demonstrate a basic understanding of what is meant by higher education and the nature of study at this level
demonstrate an understanding of a range of basic facts, ideas and theories associated with the arts and humanities, social sciences and science, technology and maths
recognise and use some of the basic terms and concepts associated with these subjects
use and apply routine skills associated with these subjects
recognise your own personal skills, interests and preferences relating to higher education study
plan and review your study pathways to link your learning  with your own personal or career goals.
What's involved?
Although the course has been designed to be studied over eight weeks, the course is open all year for you to join at anytime and study at your own pace.
At the end of each week a short quiz provides an opportunity for you to check your understanding. These short quizzes also prepare you for the longer quizzes at the end of Weeks 5 and 8. If you score over 50% on both these quizzes you can claim the Open University digital badge for Taking your first steps into higher education.
Prerequisites?
None
---
Available:
10 February 2015
Duration:
8 weeks,3 hours
---
Course Credit:
Non accredited
Credential:
Digital badge, Statement of participation
---
Course image @The Open University 2016
The Open University is proud to make this course freely available under a Creative Commons licence. Unless otherwise stated or third-party materials which are used with permission, so are not subject to the Creative Commons licence, or ours to give away. Full details can be found in the Acknowledgements section of the course.
---