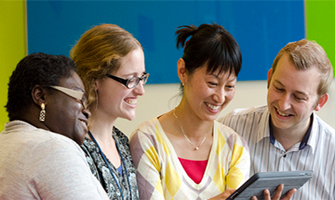 Introduction to cyber security
Our lives depend on online services. Gain essential cyber security knowledge and skills, to help protect your digital life.

We shop online. We work online. We play online. We live online. As our lives increasingly depend on digital services, the need to protect our information from being maliciously disrupted or misused is really important.
What's it about?
This free online course will help you to understand online security and start to protect your digital life, whether at home or work. You will learn how to recognise the threats that could harm you online and the steps you can take to reduce the chances that they will happen to you. 
With cyber security often in the news today, the course will also frame your online safety in the context of the wider world, introducing you to different types of malware, including viruses and trojans, as well as concepts such as network security, cryptography, identity theft and risk management.
What will I learn?
 After completing this course you will be able to:
start to protect your digital life
recognise threats to your online safety
take steps to reduce the risk of online threats
understand concepts including malware, viruses and trojans
consider network security, cryptography and identity theft.
What's involved?
Your journey into the world of cyber security and protecting your digital life has been organised into eight weeks of study. The first three weeks focus on understanding the basics of cyber security. This includes an exploration of the security threat landscape, together with some of the basic techniques for protecting your computers and your online information.
You'll then look 'under the hood', exploring some of the technologies that underpin the internet and cyber security. This will include gaining an understanding of how computers are connected in a network and how the data transmitted across that network is kept secure.
In the final two weeks of the course, you'll look at what can be done if you suffer a successful cyber security attack and how to develop an action plan. As part of this, you'll learn about both the legal and technical aspects of recovering from an attack.
This course will not only help you take steps to protect yourself online, such as how to create a strong password, but also provide an overview of cyber security from the security threat landscape to how the internet works. It will also provide a foundation for further study of this important discipline.
To test your knowledge you can try the end-of-week and end-of-course quizzes.
Prerequisites?
 None
---
Available:
13 October 2015
Duration:
8 weeks,3 hours
---
Course Credit:
Non accredited
Credential:
Statement of participation
---
This course has been developed by The Open University with support from the UK Government's National Cyber Security Programme and can be accessed free of charge. 
Course image @The Open University 2015
The Open University is proud to make this course freely available under a Creative Commons licence. Unless otherwise stated or third-party materials which are used with permission, so are not subject to the Creative Commons licence, or ours to give away. Full details can be found in the Acknowledgements section of the course.
---