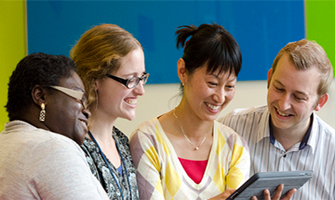 Moons of our Solar System
This free course, Moons of our Solar System, will allow you to explore the rich diversity of moons in our Solar System. You'll explore the fundamental processes that have shaped them, and the relationship between our Moon and the Earth.

What's it about?
There are lots of moons in our Solar System. The Earth is the only planet with just a single moon. Some moons are bigger than ours; many are much smaller. There are even tiny moons orbiting some of the asteroids. Some have ongoing volcanic eruptions; others are dead, heavily cratered lumps. One has rivers and lakes of liquid methane. Our own Moon has resources that could help open the Solar System for future exploration. A small handful of moons have conditions below their surfaces where primitive life might exist.
What will I learn?
After studying this course you will be able to:
describe the nature, diversity and origins of moons in our Solar System
understand the nature of moons' orbits and the effects of tides
describe the compositions and nature of the surfaces and interiors of moons
understand how impact craters are formed, recognising their significance for dating surfaces
describe the nature and history of volcanic activity on several moons
recognise the history and major discoveries of manned and unmanned lunar exploration
recognise aspects of lunar samples seen under the microscope
describe settings in which 'water' has been found on the Moon
suggest how resources from the Moon may help future space exploration.
What's involved?
Although the course has been designed to be studied over eight weeks, the course is open all year for you to join at anytime and study at your own pace.
Explore the rich diversity of moons, the fundamental processes that have shaped them, and the relationship between the Moon and the Earth.  Experts from The Open University and elsewhere through the use of video guide you through the course. The course is rich in high-quality text, images, video, audio and interactive elements. 
Prerequisites?
An interest in learning about the moons of our Solar System and the methods used to understand them. Prior knowledge of astronomy is not expected.
---
Available:
14 October 2018
Duration:
8 Weeks,3 hours per week
---
Course Credit:
Non accredited
Credential:
Statement of Participation
Level:
1st year Bachelor's
---
This Open University science open course, presented on OpenLearn, is produced with the kind support of Dangoor Education.
Course image @The Open University 2015
The Open University is proud to make this course freely available under a Creative Commons licence. Unless otherwise stated or third-party materials which are used with permission, so are not subject to the Creative Commons licence, or ours to give away. Full details can be found in the Acknowledgements section of the course.
---