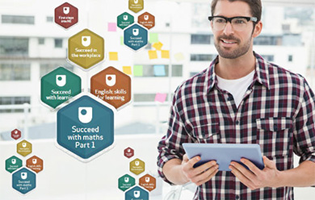 Succeed with maths - Part 1
If you feel that maths is a mystery that you want to unravel then this eight week free badge course from The Open University is for you. The course will guide you through how numbers are put together, give you confidence with using percentages, fractions and negative numbers and provide you with problem solving skills for your everyday life and the wider world.
What's it about?
Using plenty of real-life examples to help with this and give you plenty of opportunities to practice your new understanding and skills. You'll start with the most familiar territory of how numbers are put together and look at addition, subtraction, division and multiplication. In the following weeks you'll move on to look at fractions, percentages and negative numbers. 
What will I learn?
After completing this course you will be able to:
use maths in a variety of everyday situations
understand how to use percentages, fractions and negative numbers in some everyday situations
begin to develop different problem-solving skills
use a calculator effectively.
What's involved?
Although the course has been designed to be studied over eight weeks, the course is open all year for you to join at anytime and study at your own pace.
Through interactive quizzes,video and text, you'll be introduced and guide through essential maths skills and be given the opportunity to practice and test your knowledge. Part of this practice will be the weekly interactive quizzes, of which Weeks 4 and 8 will provide you an opportunity to earn a digital badge and statement of participation certificate to demonstrate your new skills. 
Prerequisites?
None
---
Available:
10 February 2015
Duration:
8 weeks,3 hours
---
Course Credit:
Non accredited
Credential:
Digital badge, Statement of Participation
---
Course image @The Open University 2015
The Open University is proud to make this course freely available under a Creative Commons licence. Unless otherwise stated or third-party materials which are used with permission, so are not subject to the Creative Commons licence, or ours to give away. Full details can be found in the Acknowledgements section of the course.
---