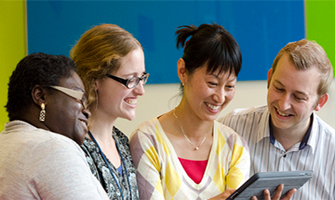 The Business of football
If you are fascinated by football and interested in discovering more about business and management then this engaging and stimulating free course which provides the opportunity to share and comment on your learning with others is for you. You can progress at your own pace over 3–5 weeks, and it will take a minimum of around 9 hours of your time over this period.
What's it about?
During this interactive course you investigate three main themes. First is the nature of the football business. You'll look at clubs, particularly those beyond the Premier League, exploring how their business model might differ from other industries. You draw on academic perspectives and interviews with those working in football at both a traditional club, Chesterfield, and a newer one, MK Dons, to consider different income streams and clubs' internal and external decision making environments.
The second theme focuses on employees' motivation at work and the dynamics of working in a team. Interviews with professional footballers and club employees are used to illustrate some of the complexities that the research reveals. You will consider how to nurture an effective motivational and team climate.
The final theme is extremely topical in a World Cup year: globalisation and power relationships in football and in business. You will examine the commercial and global expansion of the game and how different dimensions of power are used in football and other businesses.
What will I learn?
After completing this course you will be able to:
begin to understand the business of football and the internal and external business environment of football clubs
identify factors most likely to motivate people to succeed in their work in different parts of the football business including leaders and managers influence on the working environment
describe what makes teams more likely to succeed and how individuals can develop into more effective teams
reflect on the meaning of globalisation and how this relates to the business of football
identify how dimensions of power relate to football.
What's involved?
Although the course has been designed to be studied over three weeks, the course is open all year for you to join at anytime and study at your own pace.
The course is divided into three weeks. Each has some explicit 'learning outcomes' so you always know what's expected and features various activities that you should aim to complete within the week, to help you learn.
Prerequisites?
None
---
Available:
10 February 2015
Duration:
9 hours,3 hours
---
Course Credit:
Non accredited
Credential:
Statement of Participation
---
This course was produced by The Open University working in partnership with The Football League Trust, the educational arm of The Football League.
Course image @The Open University 2015
The Open University is proud to make this course freely available under a Creative Commons licence. Unless otherwise stated or third-party materials which are used with permission, so are not subject to the Creative Commons licence, or ours to give away. Full details can be found in the Acknowledgements section of the course.
---