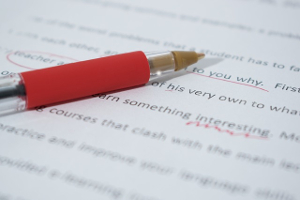 Revising and polishing your writing
Revision process and techniques to produce clear and effective academic writing.
What's it about?
Style refers to the way in which you write a sentence and arrange it within a sequence of sentences. A sound writing style is a necessity if you intend to communicate your ideas clearly and effectively. Of course, "style" is inherently subjective, but there are steps you can take to ensure that your writing follows some basic guidelines that are generally agreed upon by most academics. If your style needs work, your audience may not understand what you are trying to say.
That said, no one can write a perfect first draft, which is why the revision process is so important. Revising a text involves much more than simply proofreading it. The process involves reviewing, editing, proofreading, and making a final overview. At the end of revision, your text should be much improved.
In this micro course, you will engage with all of these topics and learn how to polish your writing so that it's clear and conveys your message effectively. 
What will I learn?
In this course, you will learn to:
Understand the proper anatomy of a sentence.
Identify the steps involved in revising your texts successfully.
Apply various editing techniques.
Polish your writing so that it's more effective.
What's involved? 
Participants will join an international community of learners interested in gaining a better understanding of the complex process involved in communicating through writing. Largely self-directed and self-paced, the course will, if learners wish, lead to credits from an affiliated institution.
The course will be offered as a micro open online course comprising a number of learning activities and resources. It is to be viewed as part of the larger English for academic writing course of study, coupled with ENGA101,  ENGA102, and ENGA103.
Prerequisites?
Anyone is free to participate in this course. An internet connection and basic web browsing skills are recommended with the ability to self motivate and direct. 
Learners preparing for formal academic credit will need to meet the normal admission requirements of the conferring institution.
Image credit: Correcting by lorenzocafaro dedicated to the public domain.
---
Duration:
3 weeks,10 hours per week
---
Course Credit:
Requirement for the English for Academic Writing course
Level:
1st year Bachelor's
---

Christine Daviault

, is a writer, editor, and designer (graphic and instructional) who works on the intersection of creativity and management. Christine was commissioned by the Read More

Cameron Campbell

, is a learning designer with extensive experience in graphic design, journalism, and instructional design. Cameron was commissioned by the OER Foundation to work Read More
---
---